Commercial Van Repair: Ashford's finest garage is there for local businesses too
We now offer commercial van repair services to all kinds of clients in the Ashford area: from independent tradesmen up to fleets. We reliably and expertly resolve all kids of servicing and repair concerns by our combination of experience, training and the wide array of cutting edge Bosch diagnostic kit in our workshop.
Trades and independent services

When your van is your livelihood you need to know it'll be ready to run. If your van is stuck in a workshop or worse, broken down on a job, you're not working. If keeping your van moving is the core of your business, why not use a workshop trusted by local tradesmen for over 30 years, with a reputation for excellence, great customer service and the Bosch German car engineering powerhouse behind it?
We provide the full range of commercial van repair & maintenance services, using our advanced diagnostic equipment to build a detailed picture of the state of your car and ensuring you receive the most thorough possible repair.
Fleets & Companies 
With our well-equipped workshop and detailed knowledge of commercial vehicles, we're more than able to provide a commercial vehicle fleet service that's second-to-none. Combining our Bosch connections with our credentials as a welcoming local business, we provide a service as thorough and professional as any main dealer garage, and are always happy to hear from other local businesses needing our help. That's why we offer discounts to local businesses. Whatever vehicle you operate and whatever your van service needs Boxer is the only visit you need to make.
Van Repair
Whether you're bumped or broken, we can help. Our team get to the bottom of engine problems and can skillfully restore damaged bodywork- quickly and without a fuss. That means your vehicle is on the road and earning instead of sitting in a workshop.
Van MOT
We offer a thorough and efficient MOT service, with discounts for local businesses. Learn more about our Class 7 MOT's here.
Van Servicing
London's roads are unkind to vans and commercial vehicles- heavy traffic and delays, long hours idling in traffic and stop-start queuing can cause wear and tear. Ashford's tradesmen have been coming back to us for over thirty years. With a track record like that, you can be confident your van or vans will be in the safest hands around, whether you're making your first visit or your hundredth. We consistently surprise and impress our customers with the quality of our customer service and the standard of car their vehicles receive. As a commercial operator you need to ensure your vehicle or vehicles are ready to go the distance before you take on a job. The smallest fault could become a serious problem if left- room for an error that could cost you work and income. A routine, thorough van service from Boxer Motor Works means you know exactly what state your vehicle is in- and lets you catch the smallest fault while it remains a cheap and simple fix.
From a man 'n' van delivery service to a commercial fleet operator- any problem with your vehicle matters. So don't take risks with the future of your business. Keep your paperwork up to date and on top of the condition of your van with us: a van MOT is a fast and cheap way to cover your van's driveability for the immediate future, getting a picture of any problems and getting the paperwork up to date.
Don't leave it until you're broken down on the site to discover your van needs a service.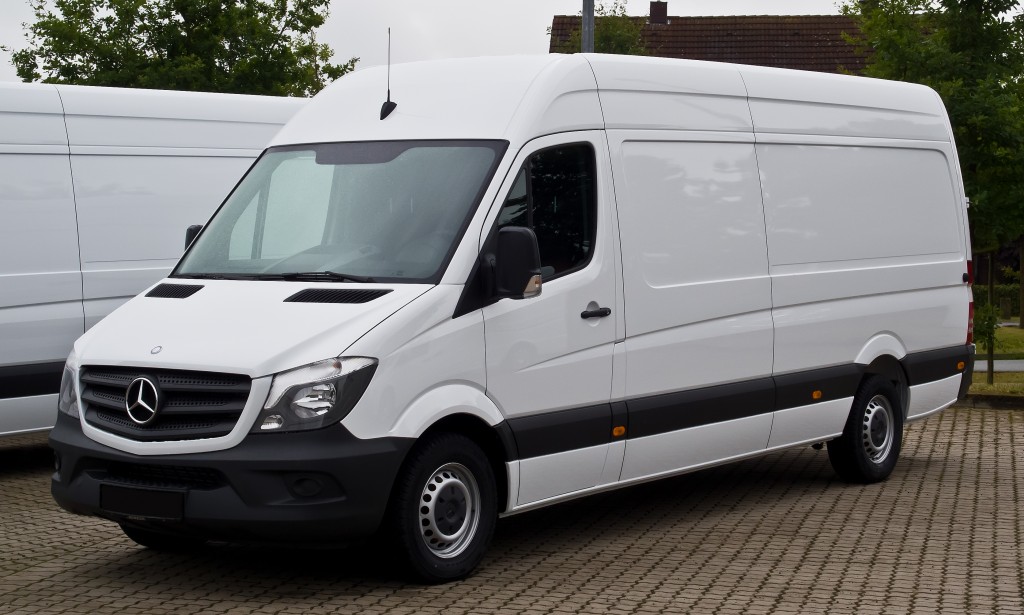 Mercedes Van Services from Boxer Motor Works – the German engineering specialists
Mercedes van service offers from Boxer and Bosch mean you get the best possible value van service, whether you operate a fleet or a single van.
As specialist technicians with a genuine affinity for the smooth efficiency of German motor engineering, we aren't just a great choice for German car repairs- we also offer specialist professional van servicing for many of the commercial vans being operated in the UK today. More and more tradesmen, as well as businesses large and small, are investing the unsurpassed quality of a German commercial van, such as the Mercedes Sprinter, due to their great record as a cost effective, high performance working vehicle.
What would happen to your business if your van stopped working today?
Our knowledge of German motor engineering isn't limited to cars- we can MOT, service or repair your Mercedes or VW van efficiently and cheaply, giving you a superior service while minimising the time you're off the road. Both commercial and private customers can come to us to get the finest van servicing without compromise.
Van Repairs
A working vehicle is bound to get banged about a bit- it's the nature of work. Loading and unloading, site work, or just a scratch here and there- it can't be avoided. Practical, hard-working commercial vehicles need a higher standard of care and an efficient, professional team: every day it's in the workshop, it's not on the job.
Mercedes Sprinter, VW Caddy and VW Transporter Vans all get expert care at our Ashford workshop.
We've been keeping West London's tradesmen on the road, on schedule and on budget for 32 years- and we won't stop now.
Our workshop has been repairing vans, helping van drivers and fleet owners keep their businesses running through our efficient, expert repairs services since 1985. In that time we've built a reputation for the highest standard of repairs, attention to detail and friendly, straightforward professionalism.
Our workshop is equipped with the very latest, cutting-edge diagnostic equipment from Bosch, which we pair with our decades of experience, to ensure you get the complete picture of the state of your van engine- nothing left to chance. Our team use state of the art testing equipment that comes straight from the Bosch labs to build a precise, scientific picture of what needs doing to your van, whatever make it is.
This simply means you won't pay for any unnecessary work. A fault fixed early is a fault fixed cheaper- a fault left is an expense your business will have to work to shoulder.
Contact us today to learn more about our Mercedes van offers and other great value van repairs and commercial van MOT services from Boxer Motor Works today!